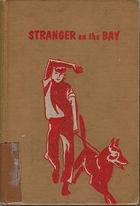 Stranger On The Bay
Adrien Stoutenburg
1955, The Westminster Press
The damp sand crunched under Don Spicer's feet as he hurried forward. Beside him trotted a German shepherd with a harness banding his silver-gray chest and back. A sandpiper skittered into view at the lake's edge and the dog bounded ahead.
It's July in Minnesota, and 15-year-old Don Spicer is intent on spending the summer (his first at his new home in Loon Lake) redeeming Frosty. He'd raised the young German Shepherd as a puppy for a guide dog school, but the dog's successful career ended in a fire that left him phobic of smoke. Don got back his dog, but feels strongly that Frosty needs to return to guiding.
He didn't know how he could bear to let Frosty go again and yet he knew he had to because Frosty wasn't just an ordinary dog. Frosty had a mission in life and it was up to Don Spicer to see to it that he didn't fail. The Foundation had put a lot of money and work into making Frosty the right kind of dog to make some blind person happier and freer. And Frosty himself wouldn't be happy without serving as he had been meant to serve.
Don and his friend Ned also become entangled in a mystery. Beloved local man "Grandpa" Danniver lost his son in a plane crash in Mexico years earlier; rescuers had found the bodies of the younger Danniver and his wife, but not their five-year-old son, Jude. And now Jude is back, after years supposedly living with a Mexican family in the wilderness. But the wary, unfriendly Jude doesn't seem very happy to be reunited with his only family, and the jovial Texan who found him doesn't seem the most trustworthy sort. And who's the stranger hiding in a cabin in the woods?
This is a mystery story with a strong secondary thread about the rehabilitation of a traumatized dog. The writing is workmanlike, and does the job, but isn't particularly vivid. It does evoke the background nicely - the woods and beach and back roads of a rural area near a lake.
About the Author
1916-1982
Stoutenburg was born in Minnesota and eventually moved west. She worked as a librarian and in publishing, and published her own poetry and children's books. She wrote many children's books, fiction and nonfiction, as well as several poetry collections. She co-wrote another dog story,
Scannon, Dog With Lewis and Clark
, with Laura Nelson Baker. She also published a book of photos and verse about cats,
A Cat Is
.