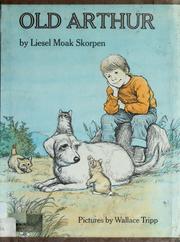 Old Arthur
Liesel Moak Skorpen, il. Wallace Tripp
1972, Harper & Row
It was Old Arthur's job to wait for William while William was at school. That old dog was very good at waiting. He had waited all his life.
An old farm dog, unwanted by his owner because he's too old to continue herding the cows and guarding the henhouse, finds a new home with a little boy.
Wagging that woolly tail was the most important job that that old dog did.
A sweet, old-fashioned story of an unwanted dog who faces harsh rejection only to find love with a little boy who, unusually, appreciates the very qualities that others disliked. The illustrations add punch to the story, and ably demonstrate how the love between boy and dog makes the old dog beautiful.
Other books by Liesel Moak Skorpen
All The Lassies
His Mother's Dog
We Were Tired of Living in a House
Outside My Window
Charles